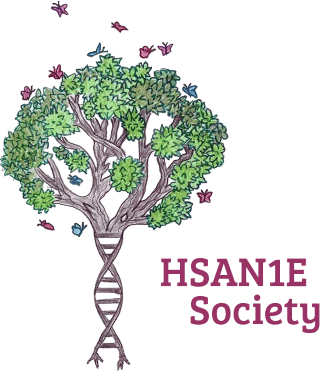 The meaning behind our logo…
HSAN1E Society's logo is a tree with a DNA strand as it's trunk and root. The logo has twelve butterflies, which are in different positions on or around the tree, and most are midflight. This logo was drawn by Patricia Huffman, and is very symbolic for our organization.
The tree symbolizes our family. That we are bound together not only by blood, but by a common experience. We have loved and lost people who are dear to us
The DNA trunk and roots symbolize the type of disease HSAN1E is. HSAN1E is genetic disorder, passed from parent to child, but also is a disease that is encoded in the individual's DNA. The disease is in fact caused by a deformed gene.
The twelve butterflies symbolize our loved ones who have died in Lindgren-Condensa line of HSAN1E. These are the twelve individuals who suffered from it at the time the disease was unknown. These twelve individuals paved the way for future generations. We have drawn them as butterflies, because they have morphed from the crippled, demented bodies and now fly free.
About HSAN1E Society
HSAN1E Society is a patient advocacy organization founded by members of the Lindgren-Condensa family. HSAN1E had been devastating the Lindgren-Condensa family for over four generations, but was most often misdiagnosed. It wasn't until 2013 that HSAN1E was finally properly diagnosed. It was then the surviving members decided to form a nonprofit organization that would help and support families affected by this ultra-rare disease.
HSAN1E Society is dedicated to helping families affected by DNMT1-complex disorders, and being a catalyst of hope and change.
Join the Community
The HSAN1E Society community is open to anyone who has been affected by HSAN1E or any of the DNMT1-complex disorders or is interested in learning more. The community shares the latest news and medical research related to DNMT1-complex disorders and offers support and understanding to individuals and families that are working through their pain and suffering.
We welcome you to join us by submitting your contact information on the form below, or by connecting with us through our social media pages. We respect your right to privacy and all information is held in strict confidence.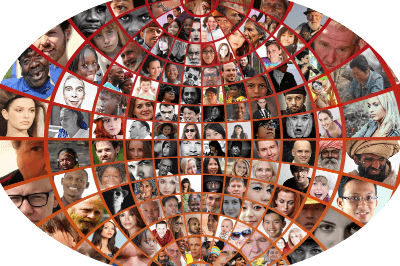 Help Make a Difference:
Donate Today!
It is projected that 90% of individuals who die of HSAN1E don't even know they have the disease. One of HSAN1E Society's goals is to help fund genetic testing for individuals who desperately need a diagnosis. Just by getting a diagnosis individuals suffering from DNMT1-complex disorders will be eligible to receive services and the medical care that they so desperately need. Your donations will help fund testing for those individuals.
Donations will also help fund important and groundbreaking research. Currently HSAN1E Society is in contact with a group of researchers from the Mayo Clinic in Minnesota. They are working diligently on HSAN1E and other DMNT1-complex disorders. In addition to understanding more about these disorders, the disease process and the gene that causes it, they hope to one day develop therapies for those families that are affected.Tooltip Text
Donate to HSAN1E Society Today
Please note that we use Paypal for secure and trusted donation processing. It is not necessary to have a Paypal account, you may use any major credit or debit card to donate.